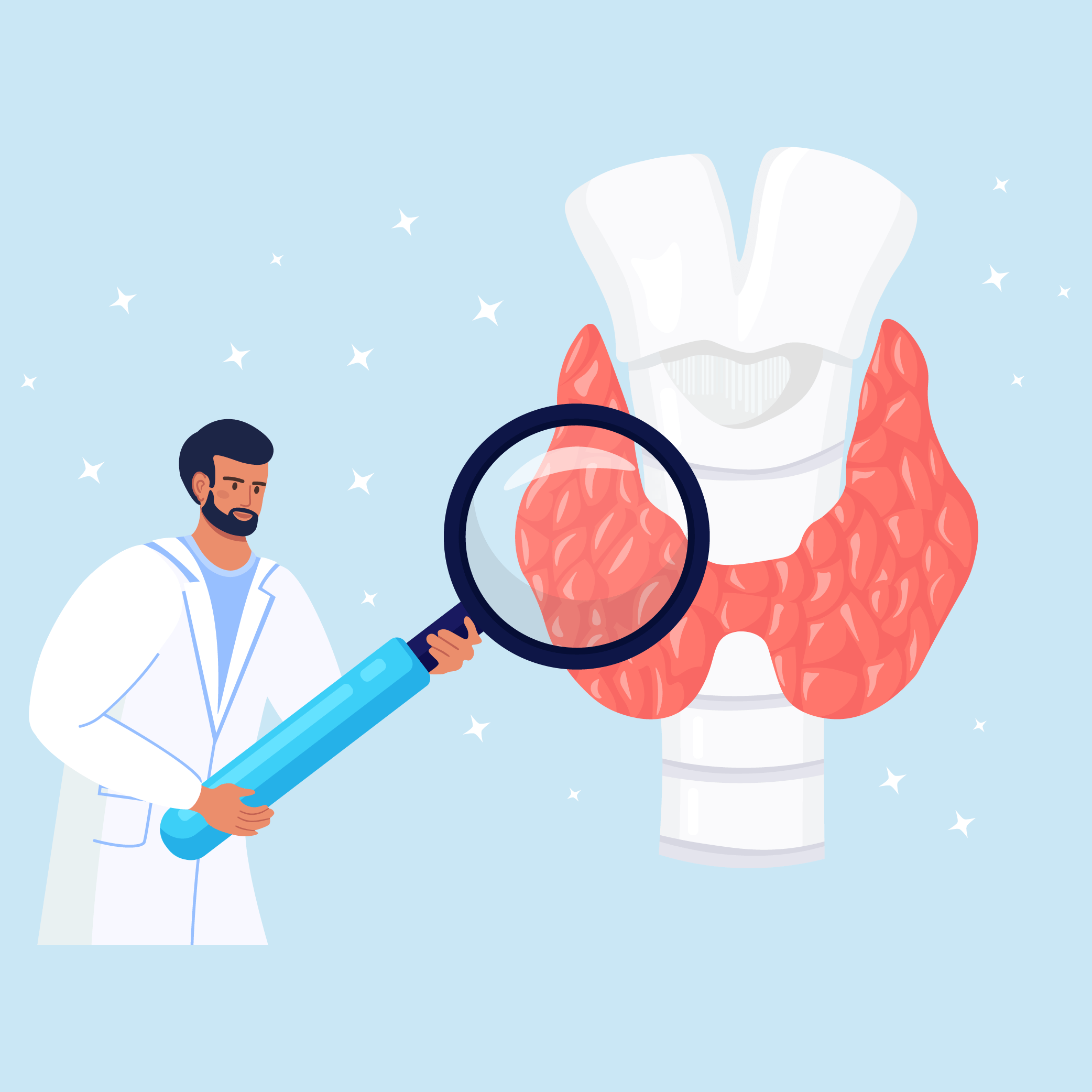 Thyroid cancer is a disease in which malignant (cancer) cells form in the tissues of the thyroid gland.
The thyroid is a butterfly-shaped gland found at the base of the throat near the trachea. This organ produces hormones that help regulate metabolism, heart rate, blood pressure, and body temperature.
Signs & Symptoms
A lump in the neck
Swelling in the neck
Hoarseness
Trouble swallowing
Difficulty in breathing
Risk Factors
Gender and age –Thyroid cancer can occur at any age, but the risk peaks earlier for women (most often in their 40s or 50s ) than for men (usually in their 60s or 70s)
Radiation – Radiation exposure is a proven risk factor for thyroid cancer
Obesity – According to the International Agency for Research on Cancer,  people who are overweight or obese have a higher risk of developing thyroid cancer
Screening
Physical exam and health history – an exam of the body to check general signs of health, including checking for signs of lumps or swelling in the neck, voice box, and lymph nodes
Laryngoscopy – a procedure in which the doctor checks the larynx with a mirror or a laryngoscope to see if the vocal cords are moving normally
Blood hormone studies – a blood sample is checked to measure the amounts of certain hormones released into the blood
Ultrasound exam – this procedure can show the size of a thyroid nodule and whether it is a solid or a fluid-filled cyst
CT-Scan –  procedure that makes a series of detailed pictures of areas inside the body, such as the neck, taken from different angles
Prevention
 Maintain a healthy lifestyle – focus on maintaining a balanced diet rich in fruits, vegetables, whole grains, and lean proteins. Regular exercise and weight management can also be beneficial.
 Protect yourself from radiation -exposure to ionizing radiation increases the risk of thyroid cancer. Take precautions to limit your exposure to unnecessary radiation
Quit smoking –  smoking is associated with an increased risk of thyroid cancer
If you have a family history of thyroid cancer or are experiencing any signs and symptoms of thyroid cancer, consult a doctor via Maxicare's 24/7 Teleconsult Hotline, Videoconsult services powered by the Doctor Anywhere App, or Maxicare Primary Care Clinic (PCC). You may also go to a PCC or request HomeCare for lab tests and diagnostic procedures.
References: