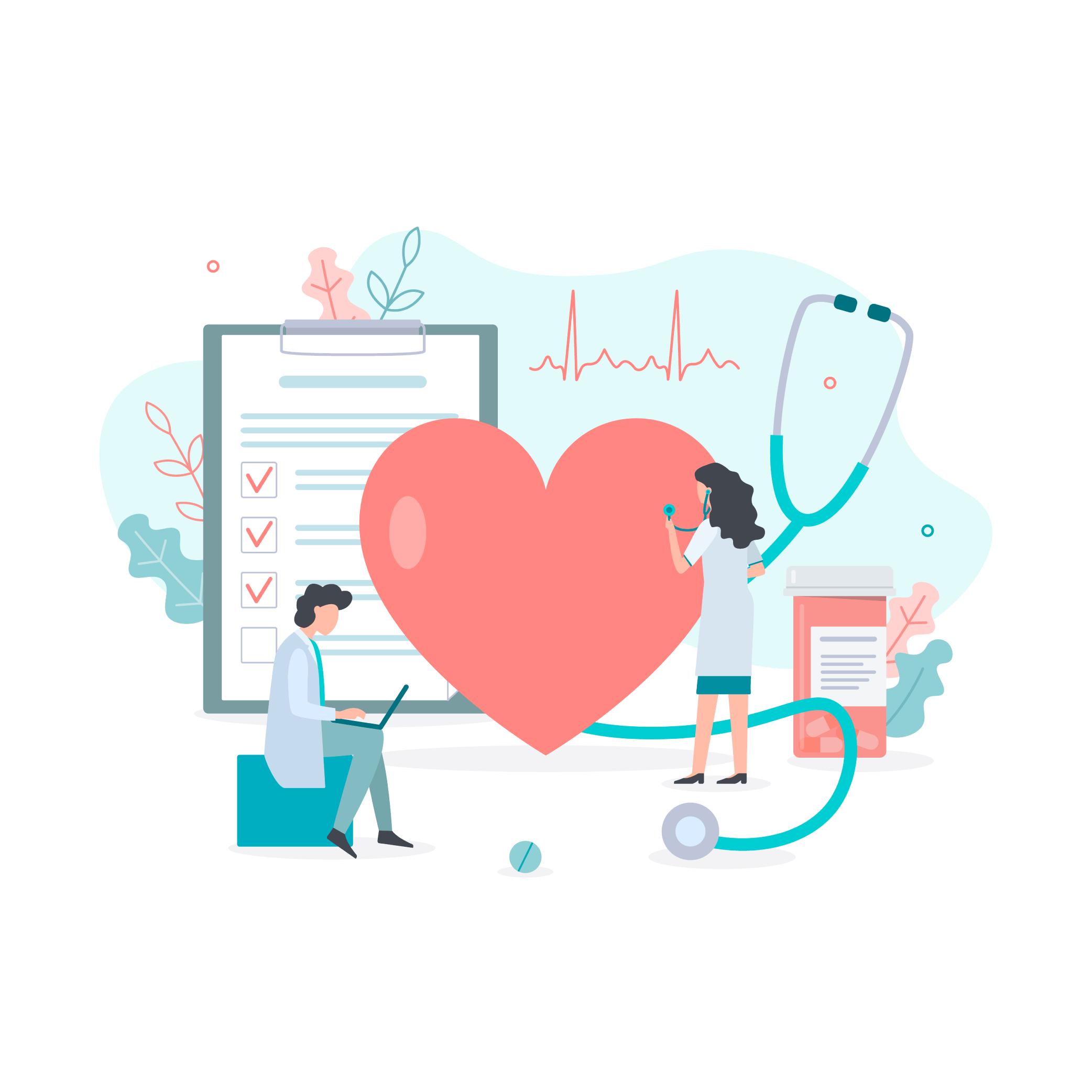 Hypertension, or high blood pressure, is a chronic medical condition characterized by the persistent elevation of blood pressure in the arteries.
Blood pressure usually rises and falls throughout the day, but it can damage your heart and cause health problems if it stays high for a long time. This happens when your blood pressure exceeds normal (120/80 mmHg).
The higher your blood pressure levels, the more risk you have for other health problems, such as heart disease, heart attack, and stroke
Signs and Symptoms
Headaches
Nosebleeding
Irregular heart rhythms
Nausea & vomiting
Chest pain
Risk Factors
Diabetes
Diabetes causes sugars to build up in the blood and increases heart disease risk.
Unhealthy Diet
A diet that is too high in sodium and too low in potassium puts you at risk for high blood pressure.
Obesity
Obesity or being overweight means your heart must work harder to pump blood and oxygen around your body,  adding stress to your heart and blood vessels.
Tobacco Use
Tobacco use increases your risk of high blood pressure. Smoking can damage the heart and blood vessels, as nicotine causes raised blood pressure.
Genetics and Family History
Genes play some role in high blood pressure and other heart diseases. The risk for high blood pressure can increase even more when heredity is combined with the risk factors mentioned above.
Prevention
No matter your age, you can take steps each day to keep your blood pressure within a healthy range.
Choose healthy meal options to help you avoid high blood pressure and its complications. Be sure to eat plenty of fresh fruits and vegetables.
Keep Yourself at a Healthy Weight
Obesity increases your risk for high blood pressure. Calculate your BMI to determine whether your weight is in a healthy range.
Physical activity can help keep you at a healthy weight and lower your blood pressure. One hour of physical activity every day is recommended.
Smoking raises your blood pressure and increases your heart attack and stroke risk.
Getting enough sleep is vital to your overall health, and enough sleep is part of keeping your heart and blood vessels healthy.
If you have a family history of hypertension and want to manage your blood pressure,  consult a doctor via Maxicare's 24/7 Teleconsult Hotline, the Doctor Anywhere App, or Primary Care Clinic (PCC). You may also visit a PCC or request HomeCare for lab tests and diagnostic procedures.
References: https://www.cdc.gov/bloodpressure/facts.htm