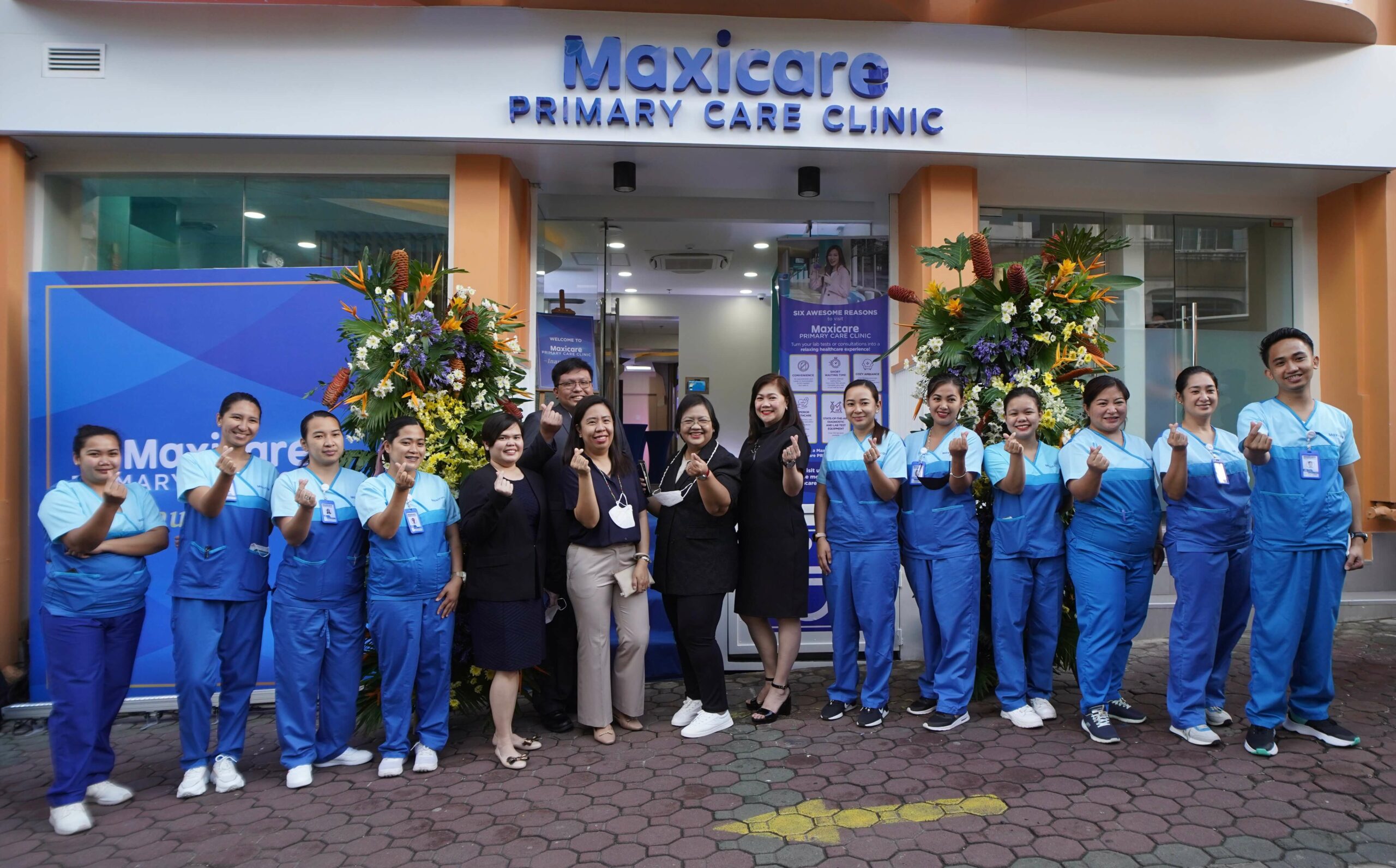 Staff and doctors of the Primary Care Clinic in Baguio welcome members and non-members to walk in and experience a relaxing healthcare experience (no LOA required).
Maxicare, the Philippines' leading Health Maintenance Organization​ (HMO)​, is set to open four new Primary Care Clinics (PCCs) in the country that all Filipinos, even non-Maxicare members, can enjoy.  The PCCs in Solenad Nuvali in ​Sta. Rosa ​Laguna, Porta Vaga Mall in Baguio City, Lopues Mandalagan Building in Bacolod City, and ​Primavera City Condominium in Cagayan de Oro opened last September 15.
Maxicare​ established its Primary Care Clinics ​​​to provide quality healthcare services to Filipinos, with locations ​​that were carefully studied to give ​members the utmost convenience and ease of access. They are located near hospitals, residential areas, and commercial centers.
While the PCCs offer Maxicare members unprecedented ease in getting much-needed medical services, ​they are not limited to ​the HMO's member base. Even non-members can enjoy unlimited consultations and access to more than 200 types of lab tests and diagnostic procedures at any Primary Care Clinic through the purchase of Maxicare's prepaid health cards, namely PRIMA Gold​ and PRIMA Silver​.
​Maximum patient care and convenience
The typical HMO system entails many steps before a​ ​member gets medical attention. ​Members need to book an appointment and then present a Letter of Appointment (LOA) to avail themselves of consultations or medical tests at accredited clinics and hospitals.
Maxicare ​has done away with this cumbersome process. Members can go to any PCC and complete ​consultations or lab tests within half an hour​ without a LOA​. ​With an average waiting time ​of about six minutes​, the short wait ​is made more convenient, with free beverages, WiFi access, and charging stations for ​​devices.
​The PCCs practice completely paperless queueing and health record management systems​. Consultation summaries and lab test results are stored on a secure online location that members may access anytime by logging in.
​"​We know that​ getting medical services can eat up a lot of time, which is a valuable resource.​ ​Health concerns are already stressful, we want to ease some of that stress by giving quality ​healthcare and customer ​service​," says Maxicare President and CEO Sean Argos​.​
"​Maxicare​ established the​ Primary Care Clinics ​to provide Filipinos with convenient and affordable ways to access top-notch medical services. We want to ensure that our fellow Filipinos are always in the best​​ of health​ and living their best lives. ​Whenever they need to see a​ doctor​ or get a lab test​, they only need to go to our clinics to get ​prompt service ​in a professional ​yet ​relaxed environment​," ​he explains.
State-of-the-art equipment and qualified professionals 
All Maxicare PCCs are equipped with the latest diagnostic and laboratory test equipment. ​They have consultation rooms for families, an ENT room, an extraction room for blood tests, a vital signs station with a BMI machine, a radiology station with an x-ray machine, and a heart station with an ECG machine. Patients can consult with primary care physicians and specialists in Internal Medicine, Pediatrics, OB Gynecology, ENT, Dermatology, Ophthalmology, Cardiology, and more​.
Maxicare Primary Care Clinics provide access to more than 200 laboratory tests and procedures such as complete blood count, lipid profile (cholesterol tests), fasting blood sugar, and SGPT (liver test). They have special laboratory tests like CA 125 (cancer antigen test) and ferritin (iron-stores test). The heart station includes ECG, 2D echo, treadmill stress test, and the Holter and Ambulatory monitoring. Anti-rabies vaccines are also available.
At present, a total of 1​6​ ​Maxicare ​Primary Care Clinics are open nationwide: (Luzon) ​Porta Vaga Baguio City, Nuvali Sta. Rosa Laguna, ​VV Soliven Greenhills EDSA, Eton Centris Quezon City, Northgate Filivest Alabang, SM City Clark, Ayala North Exchange Makati City, Bridgetowne Quezon City, W City Center BGC, and Double Dragon Meridian Park Pasay City; (Visayas) ​Lopues Mandalagan Bacolod City​, ​​Skyrise Cebu IT Park, Cebu Business Park, and Megaworld Blvd. Iloilo; (Mindanao) ​Primavera City Cagayan de Oro and ​Abreeza Mall Davao City. Maxicare also has a Wellness Rehab Center at West Double Dragon Meridian Park in Pasay City.
For more information about Maxicare's PCCs, visit https://bit.ly/3zhXQUC.
Watch the PCC inaugurations by clicking on the following links:
Primary Care Clinic Baguio: 
Primary Care Clinic Sta. Rosa Laguna: 
Primary Care Clinic Bacolod:
Primary Care Clinic CDO: