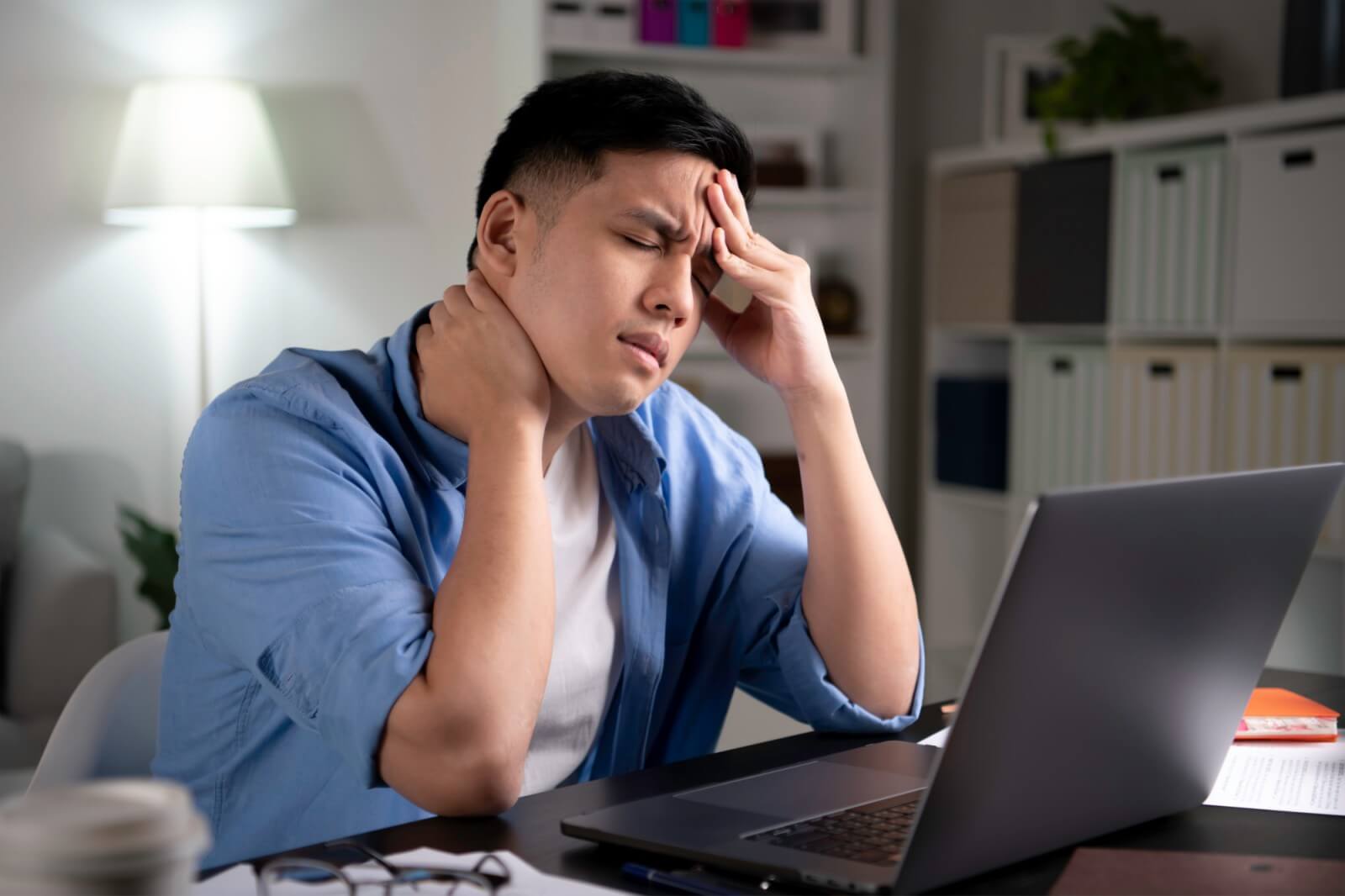 When is a headache a simple headache and when is it a migraine? How can you tell the difference between a common headache and a migraine attack?
HEADACHE
Headaches are unpleasant pain in your head that can cause pressure and aching, ranging from mild to severe pain. They are usually felt in the forehead, temples, and back of the neck. They can be relieved with over-the-counter medications and usually last no more than a few hours.
Trigger Factors
Stress
Anxiety
Muscle strain
Eyestrain
MIGRAINE
Migraine attacks are intense or severe and often have other symptoms in addition to head pain. The pain may be felt in the temples, forehead, behind one or both eyes, or in the neck.
They can cause severe, disabling headaches and can be accompanied by a variety of symptoms including nausea, vomiting, sensitivity to light and sound, and visual disturbances. Migraine pain is usually localized to one side of the head and can last for hours or even days.
The best way to tell the difference between a common headache and a migraine attack is to look for signs of the accompanying symptoms, such as nausea or sensitivity to light and sound. If these symptoms are present, it is likely a migraine. Additionally, if the headache is severe and lasts for more than a few hours, it is likely a migraine.
Trigger Factors
Anxiety
Lack of sleep
Alcohol
Hormonal changes
How to relieve headaches and migraines
Applying warm compresses: Applying a warm compress, such as a warm towel or heating pad, can help relax tense muscles and improve blood circulation.
Taking a warm shower: Taking a warm shower can help relax muscles and promote relaxation.
Massage: Massage therapy, especially focused on the head, neck, and shoulders, can help relieve muscle tension and promote relaxation
Meditation: Engaging in regular meditation practice can help reduce stress levels, promote relaxation, and potentially decrease the frequency and intensity of headaches.
Neck stretching: Performing gentle neck stretches and exercises can help relieve muscle tightness and improve flexibility in the neck and shoulder area.
4 tips to Help Reduce the Frequency of Headaches and Migraines
Moderate alcohol and caffeine intake: Alcohol and caffeine, especially in excessive amounts, can lead to dehydration and cause headaches.
Limiting screen time before bed: Excessive exposure to screens, such as smartphones, tablets, or computers, before bed can disrupt sleep patterns and contribute to headaches.
Establishing a relaxing bedtime routine: Engaging in relaxing activities before bed, such as reading a book, taking a warm bath, or practicing relaxation techniques, can help reduce stress levels and promote better sleep.
Exercising regularly: Regular exercise releases endorphins, which are natural pain-relieving chemicals in the body, and they can also help reduce stress and improve sleep quality.
If you are experiencing any signs and symptoms of persistent headache or migraine,  consult a doctor via Maxicare's 24/7 Teleconsult Hotline, the Doctor Anywhere App, or Maxicare Primary Care Clinic (PCC). You may also go to a PCC or request HomeCare for lab tests and diagnostic procedures.
References:
https://www.everydayhealth.com/headache-pictures/8-foods-that-trigger-headaches.aspx
https://www.healthline.com/health/migraine/migraine-vs-headache
https://americanmigrainefoundation.org/resource-library/migraine-and-diet/