No appointment needed at Maxicare's new Primary Care Clinics in VV Soliven and Skyrise Cebu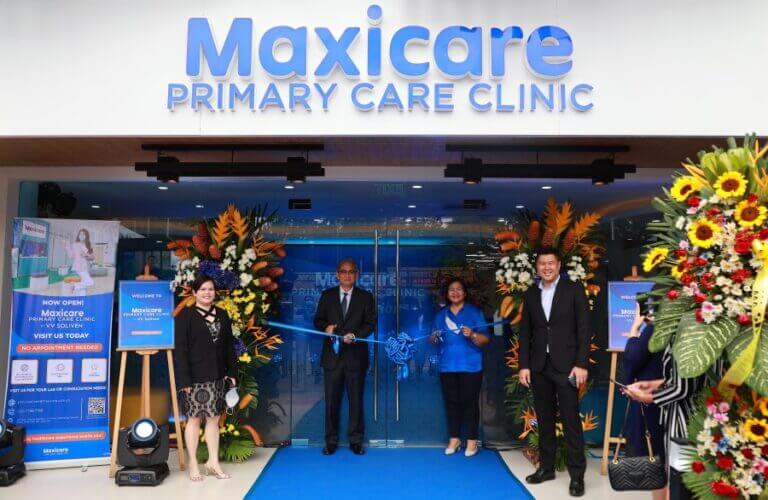 Maxicare Primary Care Clinics (PCCs) offer world-class consultations with various specialists, and an array of laboratory tests amid a relaxing healthcare experience.
Maxicare, the largest Health Maintenance Organization in the Philippines, announced that appointments won't be necessary for its two new Primary Care Clinics (PCCs) in VV Soliven Shopping Complex, EDSA Greenhills, San Juan City; and, Skyrise Tower 4B, Guanzon St. Cebu IT Park, Cebu City.
Maxicare opens their new Primary Care Clinic (PCC) in VV Soliven, EDSA Greenhills. The PCCs provide quality healthcare near the Maxicare members' home or workplaces. In the photos are (left to right) Chief Operations Officer for Maxicare's Primary Care Clinics Dr. Karen Almonte, Maxicare Chairman Roberto Macasaet, Jr., Maxicare Primary Care Clinics President Dr. Josephine Lopez, and Maxicare President & CEO Sean Argos
Maxicare Primary Care Clinics are established to give Maxicare members convenient access to superior healthcare and excellent customer experience. Usually, an HMO member needs to book an appointment and present a Letter of Appointment (LOA) to avail themselves of consultations or medical tests in accredited clinics and hospitals.
For the Maxicare members' convenience, they can skip these steps as PCCs provide a paperless queueing system and an electronic medical recording system. Members can simply walk in and complete their lab tests and doctor consultations within half an hour; with an average waiting time of only six minutes. To make waiting inside PCCs the most relaxing healthcare experience, guests are offered free beverages, wifi access, and charging stations for their devices.
Maxicare President and CEO Sean Argos explained that Filipinos deserve convenient access to quality medical services. The Primary Care Clinics were established with this in mind. "We want to encourage Filipinos to make sure that they are in the best of health. We have learned that Filipinos tend to delay their hospital visits as these take up so much of their time.
It is our mission, as a company, that whatever our patients and members need today and in the future, are served in our Primary Care Clinics. We want this to be their safe space, we want to be here for them during their trying times, and we want to serve them faster so that they can spend time on things that matter most in their life."
Maxicare PCCs are equipped with diagnostic and laboratory test equipment with consultation rooms for families, ENT room, extraction room for blood tests, vital signs station with BMI machine, radiology station with x-ray machine, and heart station with ECG machine. Patients can also consult with primary care physicians, and specialists in Internal Medicine, Pediatrics, OB Gynecology, ENT, Dermatology, and Ophthalmology.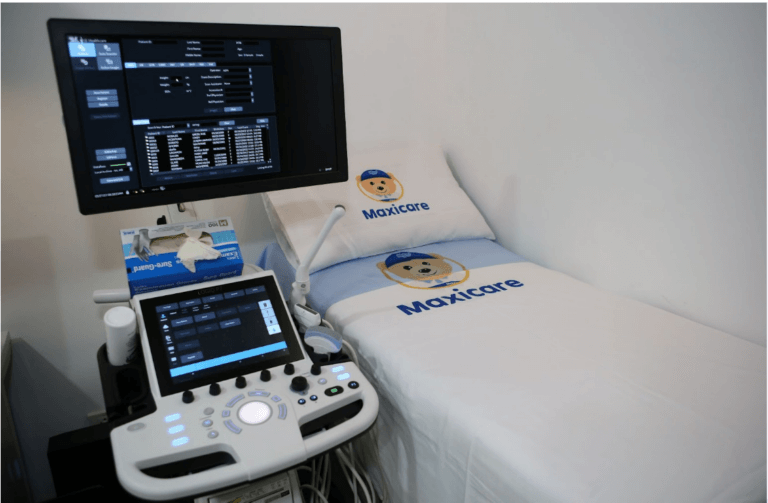 Maxicare opens their new Primary Care Clinic (PCC) in Skyrise Tower 4B in Cebu IT Park. In the photo is an ultrasound machine both for general and obstetrics, and a probe for 2D echo.
Maxicare Primary Care Clinics provide more than 200 types of tests and diagnostic procedures, such as complete blood count, lipid profile (cholesterol tests), fasting blood sugar, and SGPT (liver test). They also have special labortatory tests like CA 125 (cancer antigen test) and ferritin (iron-stores test). The heart station includes ECG, 2D echo, treadmill stress test, and, soon, the Holter and Ambulatory monitoring. Anti-rabies vaccine are also available.
"Maxicare is expanding our Primary Care Clinics to places closer to our members. Later this year, we are targeting to open three more PCCs before 2022 ends, with more to be opened next year," Argos said. "We will continue finding ways to help our fellow Filipinos live their best lives."
Take a look at the newly opened Maxicare Primary Care Clinics in VV Soliven and Skyrise Cebu.
Maxicare PRIMA Gold, PRIMA Silver, and E-Ready Advance prepaid cardholders are entitled to unlimited consultations at PCCs. At present, a total of 17 Primary Care Clinics are open nationwide: (Luzon) VV Soliven Greenhills EDSA, Eton Centris Quezon City, Northgate Filivest Alabang, SM City Clark, Ayala North Exchange Makati City, Bridgetowne Quezon City, W City Center BGC, and Double Dragon Meridian Park Pasay City, Double Dragon Meridian Park Wellness and Rehab Center Pasay, Sta. Rosa Laguna, and Patria de Baguio; (Visayas) Skyrise Cebu IT Park, Cebu Business Park, Megaworld Blvd. Iloilo, and Lopues Mandalagan Bacolod; (Mindanao) Abreeza Mall Davao City and Primavera City-Citta Verde Cagayan de Oro. For more information about Maxicare's PCCs, visit https://bit.ly/3zhXQUC.
###
About Maxicare As the largest HMO provider in the country, Maxicare continuously provides Filipinos comprehensive healthcare programs via its wide network of medical providers fortified by a strong customer support system. Currently, it services the largest number of HMO customers across the country from corporate segment, small and medium-sized enterprises to families and individuals via its more than 24,000 affiliated doctors and specialists, 1,400 hospitals and clinics, 700 dental clinics, 140 rehabilitation, dialysis, and eye centers. For more information, visit https://www.maxicare.com.ph.