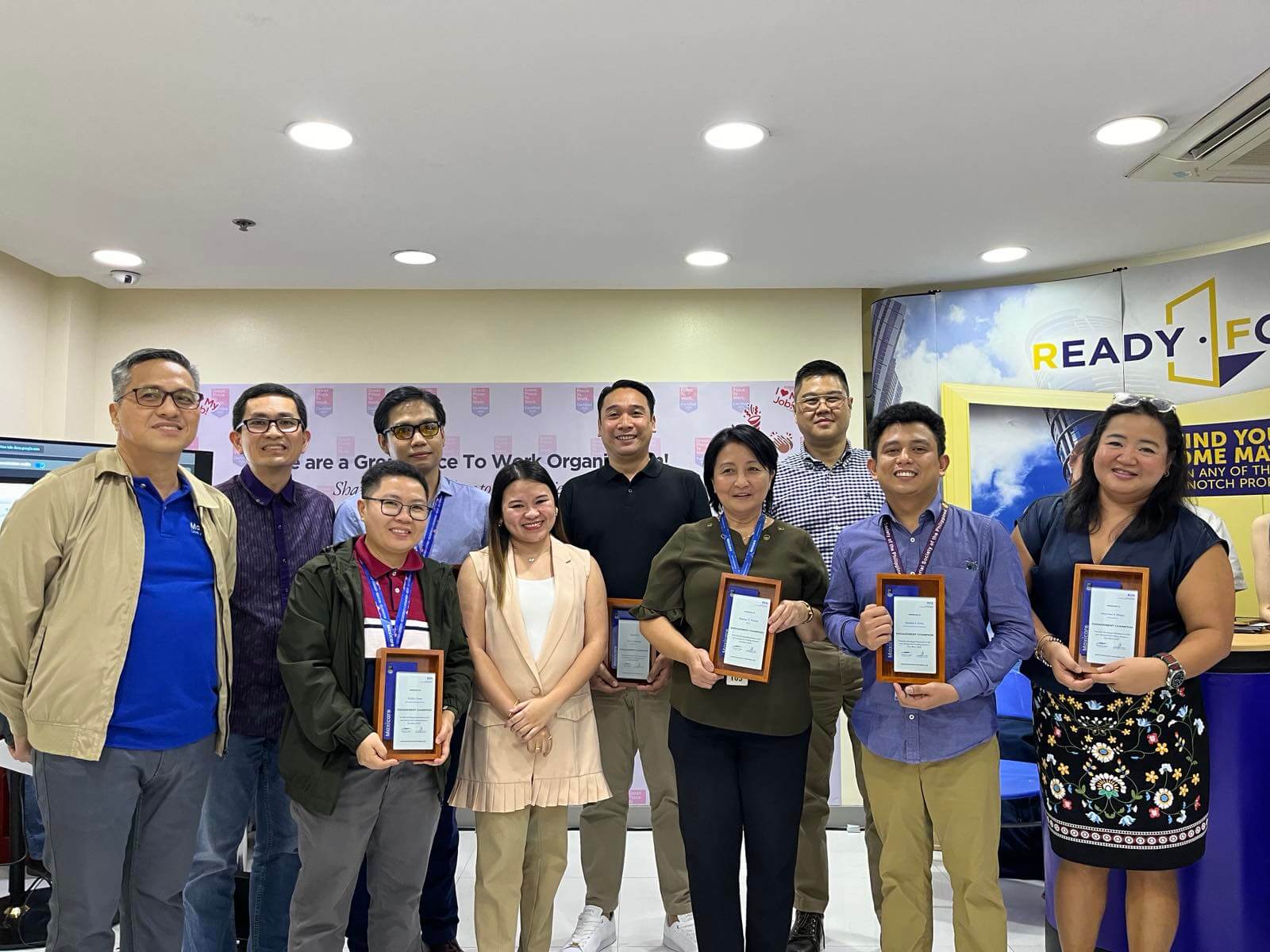 President and CEO Christian Argos and Chief HR and Administration Officer Joe Buot pose with the leaders of Maxicare departments with the highest engagement scores. From L – R: Joe Buot, (front) Gladice Censon, Lea San Pedro, Rowena Vivares, Mark Joseph Paguio, Mary Grace Mesugas (at back) Jordan Pabico, Jonathan Garcia, Dick Mercado, Christian Argos
Maxicare celebrated its one-year anniversary as a Great Place to Work®️ awardee on September 26, 2023. The celebration transformed the Maxicare Hub in MC Tower into a festival ground, where employees were treated to great eats, fun treats, and great opportunities to learn more about other companies under the Equicom umbrella.
Dubbed the Maxicare GPTW Day, the Maxicare Hub was converted into a mini-fairground, with booths lining the walls.
A program was held in the afternoon to recognize the most engaged departments in Maxicare, with President & CEO Christian Argos giving the opening remarks. "Maxicare's success as a service company also relies on being a great place to work attracting top talent," said Argos.
Chief HR and Administration Officer Joe Buot led the recognition ceremony honoring the departments that scored above 83% in employee engagement based on the Great Place To Work Institute scoring system. The departments and their representatives are listed below in descending order of their engagement scores:
Pricing and Service Agreement Department – Jonathan A. Garcia
SME 2 – Jennilyn Michelle T. Limbaring
MyMaxicare Department – Dick C. Mercado
Quality Management System Department – Gladice J. Censon
SME 3 – Rowena T. Vivares
Wellness, Medical Resource, & Research Department – Juan Carlos R. Sevilla, MD
Enterprise Services – Lea S. San Pedro and Mark Joseph F. Paguio
HR Operations – Mary Grace R. Mesugas
During the event, Maxicare employees enjoyed fresh pizza slices from Shakey's and fries from Potato Corner. Other Maxicare sister companies participated, including Robinsons Bank, Union Bank, GoTyme Bank, and Robinsons Land Corporation.
Maxicare employees had a blast taking photos against the event backdrop and posting them on social media, using the hashtag #OneMaxicare. Posts that garnered the most likes by the deadline the next day were rewarded with a free round-trip ticket to a local destination courtesy of Cebu Pacific and a complimentary overnight hotel stay.
Maxicare was recognized as a great workplace by A Great Place To Work®️ Institute in November of 2022. Its survey indicated that 83% of the company's employees thought that Maxicare was a great place to work, much higher than the global average score of 53%.
Buot noted, "On our first certification effort, we were graded at 83% company engagement, which is way higher than the global standard. That is truly an outstanding achievement."
Despite the challenges faced by the industry in 2022, Argos is confident that Maxicare will continue to achieve bigger and better things. "I am proud of what we as a company have achieved," he said.