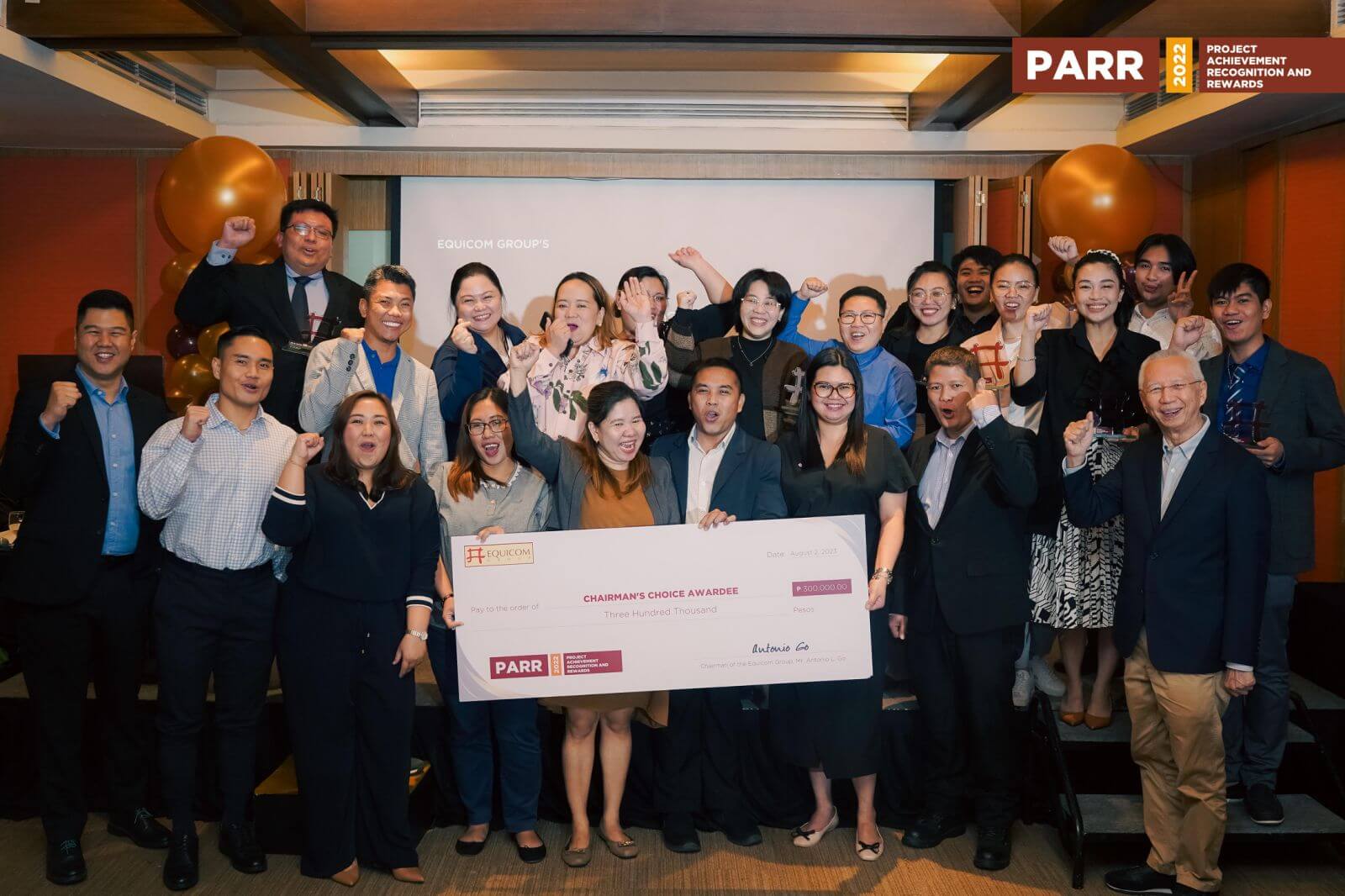 Within the Equicom Group, anyone, no matter their role, can spark improvements. In the photo are the sponsors and recipients of Equicom Group's Project Achievement Recognition and Rewards: (top row, from left to right) PCC Cluster Head Dr. Delfin Sison, E-Commerce Manager Angelo Fernandez, Project Manager Julie Ann Cortes, Senior Claims Manager Shellany Abay,  Transformation Manager Nina Irene Guevarra, Senior Project Manager Dominique Salcedo, QMS Senior Manager Gladice  Censon​​, Transformation Analyst Christine Marie Tuble​, Jonathan Gavino​,​ Consumer Engagement Assistant Manager Clairelyn Escaño​, Consumer Engagement Supervisor Kassandra De Jesus​, Compliance Officer John Markcus​ Capulong​, Transformation Analyst Supervisor Edmund Margallo​; (first row, from left to right) Maxicare President and CEO Christian Argos, ​Consumer Support Group AVP Gyle Michael D. Geñoso ​, Consumer Engagement Manager Astrid Alyssa Lescano​, Claims Supervisor Anne Beverly Alto​, Claims Manager Anna Lisa Alcazar​,  Claims Assistant Manager Alfonso Mollida​, Claims Assistant Manager Katherine Analyn Santos​, Software Development Services AVP Rey Anthony Geminiano,​ and Equicom Group Chairman Antonio Go​
In the vibrant world of Equicom Group, employees aren't just faces in the crowd – they're agents of change, capable of making a difference within the organization.
Equicom demonstrates this commitment to recognizing employees' remarkable efforts that enhance operational efficiency and elevate customer service through the Project Achievement Recognition and Rewards (PARR) Program. Launched in 2020, PARR promotes teamwork and urges teams from different parts of the company to come up with creative solutions that enhance customer experiences.
The program has two project categories – one designed for individual companies and the other for collaboration among Equicom Group companies. The first type gathers talents from a single company to create solutions for their specific challenges. The second type unites individuals from various Equicom Group companies to work on bigger goals together.
Recognizing 2022 Initiatives
A diverse range of initiatives was highlighted through a total of 25 nominations. The finalists' projects were evaluated by a distinguished panel of judges, including Equicom Directors Eric Cruz and Teddy Panganiban, as well as JG Summit's Chief Strategy Officer Paul Afable.
Cruz Marohombsar & Co., the auditing partner for the program, also conducted a thorough evaluation of these projects. Their assessment criteria included project timelines, innovation, impact, value creation, and a cost-benefit analysis.
The 5 Chairman's Choice Awardees
Five projects were selected as Chairman's Choice Awardees. On August 2, an awarding ceremony was held to showcase and celebrate these exceptional projects.
Lifesys RIS PACS Implementation by Maxicare: A game-changing project that streamlined radiology workflow, leading to considerable time and cost savings, alongside accurate diagnoses.
Chatbot in Maxicare Online Store by Maxicare: Elevating the purchasing experience through automated FAQ responses, culminating in impressive cost savings.
Online Store, Online Payment, Sales ViewPoint, and Paynamics by Maxicare: An overhaul that benefited both the treasury team and customers by introducing efficient digital purchasing options.
Internal Documents Approval via Google Workspace by Maxicare: A streamlined document approval system that paved the way for substantial cost savings.
Self-Service Reimbursement Claim Status Inquiry by Maxicare: Empowering members to check claim statuses, enhancing productivity and customer satisfaction.
When asked about the hurdles and insights gained from her award-winning project, Consumer Engagement Assistant Manager Clairelyn Escaño shared that embracing the challenge of creating a chatbot, even without technical expertise, allowed her to uncover hidden talents.
"When the Chatbot project was assigned to my co-lead and me, we faced a big obstacle: we lacked experience in technical projects. Initially, we were unsure where to start, which steps to take, and how to execute them. However, we remained determined and open-minded. As we dived deeper into the project, we gradually found our way to success. Our team's support and guidance played a pivotal role in our progress," she said.
The PARR Program also recognized the lasting achievements of previous winners. A Sustainability Award was granted to five projects: Doctor Anywhere's Primary Care Network Direction Strategy, NextGo Kiosk Outpatient Lab LOA, Maxicare RegisterME and SSO, Inpatient End to End, and HomeCare Program.
Equicom Group Chairman Antonio Go and Maxicare President and CEO Christian Argos presented the awards and a prize of P300,000 for each team that received the Chairman's Choice Award.
Summing up the essence of PARR, Argos said, "Innovation comes in many shapes, not just tech. What counts is the outcome, and it's vital for all to know that anyone, no matter their role, can spark improvements. This idea is at the core of PARR – creating an environment where everyone sees their power to bring positive change. It's proof that game-changing ideas are for everyone, and every role matters."